No time for a long-winded intro, let's get down to business:
Know Thy Enemy: Belgium
Official team slogan: "Expect the impossible!"
Alternate slogan: "We're here to eat waffles and kick ass, and we're all out of- actually we still have a shitload of waffles."
Exports: Beer, Chocolate, Brussels sprouts
Imports: Stolen diamonds, foreign militaries, collateral damage, other people's disputes
Stankonia > Wallonia
Belgium is divided into two regions that sound completely made up and might as well be for all I care: Flanders and Wallonia. Flanders is basically the north half of the country, where citizens are Flemish and speak Dutch. Wallonia, in the southern half of the country is mostly French speaking and its citizens are known as Walloons. I can only assume that the Walloons travel via Lorax and and that everyone in Flanders looks like one of the Croods.
Belgium: Europe's Wild West Saloon
Belgium has a rich military history of hosting other countries' rich military histories. Near my office, there is a five-point intersection where a bunch of busy roads and highways come together in a five-headed hydra of overdevelopment, often with poor consequences and serious accidents. Belgium is Europe's five-way intersection.
Sitting squarely between Germany, France and England, Belgium is known as "the battlefield of Europe," which is not a good nickname considering Belgium's two branches of military are "all the king's horses" and "all the king's men." For centuries, warring nations have used Belgium as a neutral location for battle, so Belgium is basically the Rose Bowl Stadium, only with millions of casualties and a decimated national infrastructure.
Belgium's National Snack Is Embarrassment
French fries are a source of national pride in Belgium, which is confusing and sad. From Wikipedia:
It is claimed that fries originated in Belgium, and the on-going dispute between the French and Belgians about where they were invented is highly contentious, with both countries claiming ownership.
Way to own your #brand, Belgium. Darren Rovell would give you a stern lecture if he wasn't too busy masturbating to QR codes. Either way, let it be known that the Belgians lost a war over potatoes to the French, which seems impossible to do for like 10 different reasons. Also, Belgians cover their fries in mayo and that is so gross.
Team Outlook
They Are Good
Belgium has lost just three of its last 24 games and stormed through World Cup qualifying, finishing 8-0-2 in a group that included Croatia and Serbia. Fourteen of the 23 players on their roster played in the Champions League last season, and that doesn't include the guys who play for Liverpool, Tottenham and Everton.
Despite a bunch of big name attacking players, Belgium is most accomplished defensively. They conceded just one goal during group play, a penalty to Algeria, and have shutout four of their last five opponents. They may have the best goalie in the world, Thibaut Courtois, who just led Atletico Madrid to a La Liga title and the Champions League final. They've also got a bunch of Premier League stars on the back line, including Vincent Kompany (Man City), Thomas Vermaelen (Arsenal) and Jan Vertonghen (Tottenham).
Things don't get a whole lot easier on the offensive end, where Belgium boasts a rash of up-and-coming talents. With all due respect to the German midfield and the injured Cristiano Ronaldo, Eden Hazard is probably the most dangerous attacking player the U.S. has faced so far in Brazil. Hazard, who plays for Chelsea, can score and set up his teammates with equal precision and is going to be a handful for Fabian Johnson and Graham Zusi on the flank. They've also got Romelu Lukaku, who scored 15 goals for Everton last season, plus a bunch of midfielders who are good. Whatever.
They Are Not THAT Good.
If you finished that last section and felt physically ill, relax. For starters, Belgium has not looked great so far in Brazil, which is an odd thing to say about a team that won all three of its group games. They played in the least talented group in the tournament, yet Russia, South Korea and Algeria each gave Belgium a handful. A plus-3 goal differential against three of the worst teams in the tournament should not strike fear into your heart. Belgium needed a 78th minute goal to beat South Korea, which lost 4-0 to Ghana and 1-0 to Tunisia in its warm-up games before the World Cup.
The Belgians are also banged up: Their starting fullback is out for the tournament with a broken leg, Vermaelen is doubtful with a bum hamstring, Lukaku's been benched, midfielder Steven Defour is out after picking up a red card last game, and, perhaps most important, team captain Vincent Kompany is questionable to play and hasn't practiced in nearly two weeks due to injury.
Finally, the downside to Belgium's standing army of 23-year-old phenoms is their obvious lack of experience. The national team has not played in a World Cup since 2002; they haven't qualified for the Euros since 2000, and only one player, 36-year-old Daniel Van Buyten, has played in a World Cup before. They also haven't played together a whole lot- their 23 players play for 17 different European clubs in eight different countries. Whether or not teams need experience or need to play together is up for some debate, but the extreme lack of both certainly raises some fair questions about what Belgium will do when they have to play a good opponent in unfavorable conditions.
They Are Ugly.
First of all, there's Manchester United's Marouane Fellaini, who is the nightmarish hybrid of Dustin Diamond's and a Bond villain:
Fellaini, however, thinks otherwise, and once told reporters "I know I'm hot," so hot that he requested a transfer from Everton because he was being swarmed by women wherever he went: "I am living in Manchester now, because in Liverpool, the women were crawling for me," Fellaini said, whilst protesting too much. Fortunately for Fellaini, this bothersome adoration from females has not extended to Manchester, where he has scored zero goals and is generally hated by all United supporters so, problem solved!
Second, the fans have dubbed manager Marc Wilmots, "Das Kampfschwein" — which translates as "war pig" – as well the "Bull of Dongelberg," which sounds like the formal title of a porn industry executive.  I must admit that warpig is a pretty awesome nickname; and it's damn sure better than Marc Wilmots. Still, that's a bold title for a guy who backed out of a warm-up game against the U.S. at the last second.
That's right, Belgium and the U.S. were supposed to play a friendly behind closed doors upon arriving in Brazil last month, but the Belgians cancelled because of "fears of traffic." Traffic, I can only assume, is a  Belgian euphemism for "Kyle Beckerman." WARPIG IS SHOOK.
Then there's Hazard's penchant for kicking children in the ribs on national television:
Plus Adnan Januzaj flops a whole lot:
And Kevin Mirallas is a shithead:
On the opposite side:
Life: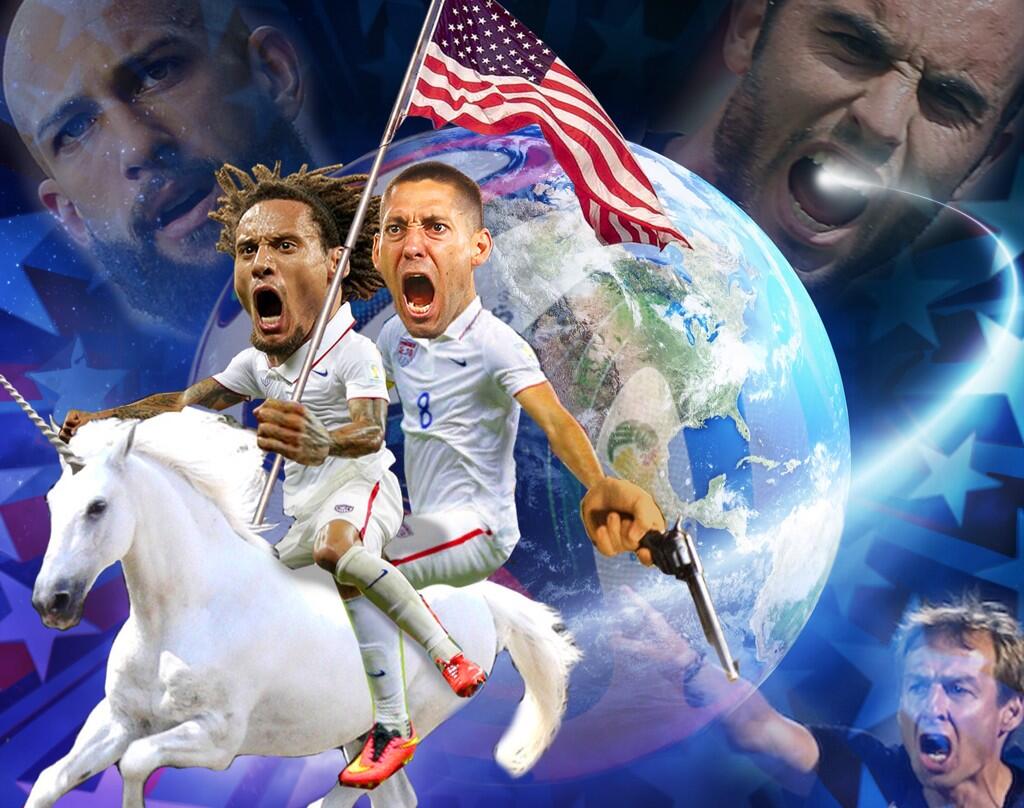 Liberty:
Pursuit of Happiness:
And of course, Mike Tyson:
Prediction- USA 2, Belgium 1.
BRB, gotta go watch this 8 more times and run through brick wall. GO GO U-S-A!